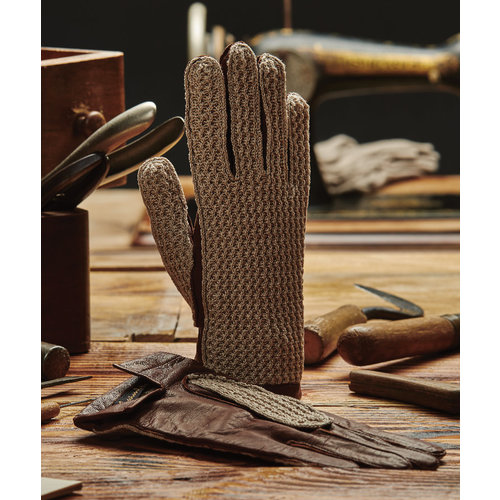 Crochet
What are crochet gloves?
Crochet gloves are crocheted gloves. Of course it is a bit more than that. All of our crochet gloves are finished with a crocheted top or crocheted hand as we call it.
Crochet is lighter than leather, so when the upper hand is crocheted it saves a lot of weight on the material of the gloves.
Crochet gloves also come in models without fingers or with half fingers, both unlined and lined. These styles are sporty, timeless and fit perfectly with the airy design of the crochet upper hand. 
Why crochet gloves?
A glove with a crochet upper hand is airier and breathes well. This allows you to create gloves that are worn more for grip than warmth. This is often used for car gloves for example. This creates a beautiful glove with leather inside for optimal grip, but the airy crochet design means that you can also wear this in the summer. In the wool-lined crochet gloves, the natural material of the upper hand provides extra comfort and excellent temperature regulation.
The sporty crochet glove models are often fitted with a press stud, which provides a comfortable fit on top of the hand at the boundary with the wrist. 
Buy crochet gloves at Laimböck
Laimböck is the place to be for the most beautiful crochet gloves. Both sporty models for in the car or on the scooter as well as everyday models with a crocheted upper hand. You are assured of optimal quality as you may expect from our rich history. If you have special requests, please feel free to contact us. 
Our gloves are always shipped for free.
Is the crochet gloves not quite what you're looking for? Take a look at our leather gloves for men or leather gloves for women.