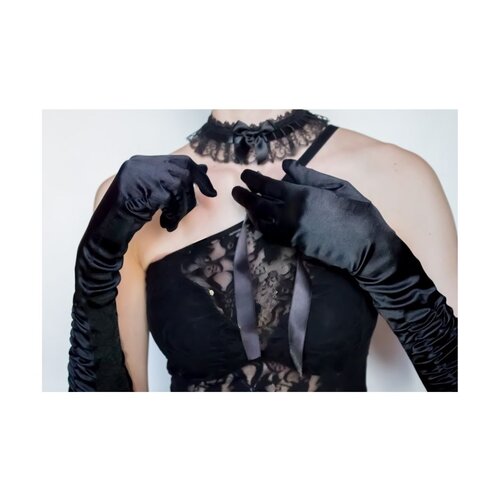 Long gala gloves
Gala gloves
Long gloves are nice to wear to a gala because they add a sophisticated and elegant element to your outfit. They add a nice overall look to formal attire. Moreover, they can add an extra accent or detail to the gala outfit. Long gloves gala also give you a sense of luxury and comfort. With these gala gloves, you are sure to make a radiant entrance!
Long gloves ladies gala made of satin or velvet
Most long gloves in our range are made of satin. This fabric is a soft and breathable material, which also makes the gala gloves very comfortable to wear. The natural shine also makes gala long gloves very luxurious and elegant. The Atenco model is made of velvet and available in a beautiful purple or brown colour. Of course, Laimböck stands for quality, so all materials are strong and hard-wearing, making them nice and long-lasting and allowing you to use them more often for formal occasions. Easy to wash with a separate hand wash with slightly colder water. Then they'll be clean again for the next party!
Buy your ladies' long gloves at Laimböck
Can you see yourself wearing those long gloves for women at a beautiful gala? We think this accessory will complete your outfit! If you are the bride-to-be, take a look at the fingerless long gloves model Rio Grande, available in white, red or off-white. So order your favourite pair now and you will receive them within 2 to 3 working days via letterbox parcel. Laimböck is a traditional glove company that has been offering quality gloves since 1831. This ensures that we have a lot of experience in-house, allowing us to help you in the best way possible. High customer satisfaction and good service is therefore our top priority. Buy the best quality gloves at Laimböck.