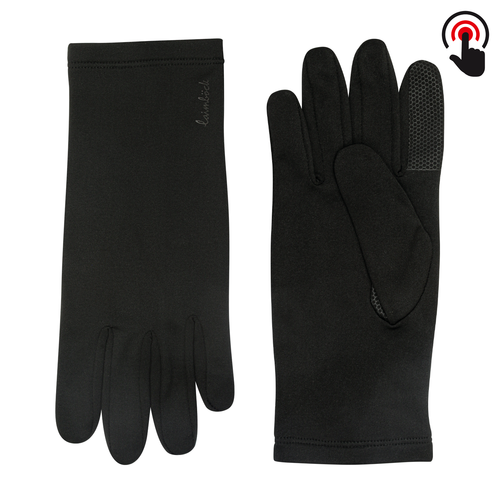 Urban & Touchscreen
Gloves men's touchscreen
You know that feeling of freezing cold hands in winter? To avoid that, many men wear gloves. But still often have to take them off. For example, to check the weather forecast on their mobile phone. Or to watch movies while waiting for the train. This is an attractive pastime, but cold. Luckily, Laimböck has the solution for you: gloves men touchscreen. These are winter gloves that allow you to operate touchscreens on mobiles, tablets, mp4 players, etc. This keeps your hands protected from the cold.
Touchscreen gloves men of the right material
It sounds very logical, but not all gloves keep your hands warm. For instance, some types of gloves let a lot of wind through. Knitted men's gloves are particularly known for this. But if you are sheltering from the wind in a bus shelter, knitted gloves do keep your hands warm. And that makes the choice tricky. Because you want gloves that are always warm, even when the wind blows hard.
So choose leather gloves made of nappa, lammy, peccary or deerskin. Animal-free vegan leather gloves are also a good option. Finally, there are special fabrics or stretch fabrics that will keep your hands warm and dry. So there are all kinds of options for warm, dry winter gloves.
Don't want just any warm pair of gloves, but one with a touchscreen function? Then we offer you touchscreen gloves men made of vegan leather and of polyester. Which one will you choose? Check out our current offer above.
What does the touchscreen function mean?
The touchscreen gloves men are specially made to operate mobiles and other touchscreens. Without taking off your gloves. Because on the index finger and thumb there are no normal tips, but a touchscreen connector. As a result, the screen of your mobile phone, tablet or e-reader also responds to your thumb or index finger in the glove. So you don't have to take off the gloves, which you have to do with regular gloves.
Laimböck's touchscreen men's gloves have only two connectors: on the thumb and on the index finger. We deliberately chose this. Because these two fingers are used most often with touchscreen devices. So for clicking, swiping or typing. No need to take off your gloves for that.
Buy your men's touchscreen gloves from Laimböck
Do you want touchscreen gloves for men? Then scroll up for our current range. We currently have a pair made of vegan leather, for example. This feels like leather, but is made without animal skin. More popular is our pair in black stretch fabric. All men's touchscreen gloves are available in typical men's sizes 8.5 to 10 or L/XL. So there is always a pair to suit you.