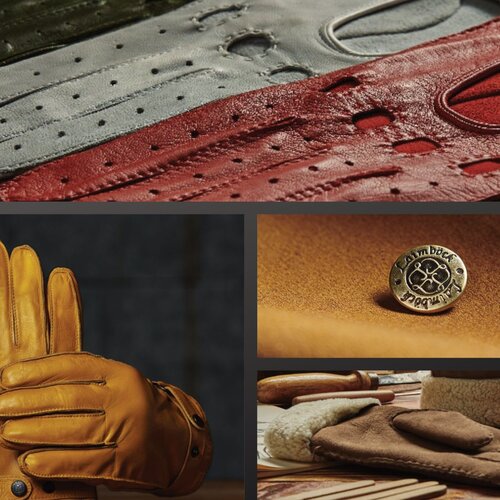 All gloves and mittens
A pair of leather gloves or mittens, the perfect accessory during cold weather. Laimböck offers all types of leather gloves for women and men. We have been manufacturing luxury leather gloves in nappa leather, lammy, crochet, peccary and suede since 1831. Also in the range: vegan leather and classic knitted mittens and gloves in various colours.
Leather gloves or mittens have nice features to wear and also dress up nicely with various outfits and have the pleasant property of protecting well against wind and cold.The main advantage of leather gloves is that it is a durable material and therefore lasts longer. Leather gloves protect well and real leather 'breathes', preventing sweaty hands. Gloves and mittens can therefore be used in multiple seasons. For this reason, you see leather gloves being worn on bicycles, e-bikes or scooters in traffic, but also simply outdoors while walking.
Buy leather gloves
Leather gloves are all unique handmade products. Each piece of leather is unique and therefore provides that stunning look. A comfortable fit, chic look and fitting for many occasions makes leather gloves the finishing touch to the winter wardrobe.
Kinds of leather gloves
Nappa leather gloves
Lammy gloves and mittens
Peccary gloves
Suede gloves
Gloves without tips
Long gloves
Leather mittens
Car gloves
Want an inexpensive alternative to leather gloves but still want to keep your hands warm? Then check out our other options, such as knitted gloves or men's and women's model vegan leather.
Leather gloves from Laimböck
Leather gloves from Laimböck are of the highest quality and always made of genuine leather. We use the finest selection of leather materials for our leather gloves. We have therefore built strict quality control into the production process of our gloves. The process consists of 3 main steps. The first step is selecting the leather for the gloves. A glove must have nice supple leather that moves comfortably with the movements of the hand. Only the best leather is used for this. Next, the leather is cut. As a final step, the leather is sewn into the model of your choice. This can be finished with a crochet top to a crochet glove, or just a leather top that may or may not be lined.
Top-quality leather gloves
Making and developing gloves is craftsmanship. The leather is carefully selected and cut very precisely. That way, only the best pieces of leather are used and the sizing becomes very reliable and precise. The next step, the sewing of these leather gloves, cannot be underestimated either. Every step in the process is an art in itself.
Of course, an extensive quality control takes place at the end of the process, so you can always be assured of the quality we intended.
Assortment of gloves
In terms of lining, there is a choice of materials (fleece, thinsulate, silk, lammy, cashmere, wool blend, fake fur, knitted). For lovers of warm padded gloves, there are several with pure wool lining. After selecting the type of glove or mitt on the drop-down menu, a filter will appear with the various types of lining on the basis of which a choice can be made.
We do our utmost to offer a wide selection of gloves and mittens in every price range. Naturally, we set strict quality standards for our gloves. With its rich history since 1831, Laimbock has developed a craftsmanship that still provides people with the desired quality gloves today.That is our tradition!