GLOVES SIZE MEASUREMENT
How do you measure your glove size?
A common question and logical to determine the right glove size before purchase. Measuring glove size is very easy. We explain it to you step by step.
For comfortable wear, it is important that gloves fit properly. Gloves are available in different sizes. On this page, you can see which sizes go with them. 
We have two size tables where you can find the men's and women's sizes. Using these tables, you can measure which size fits you best. The most accurate way to determine the glove size is to measure the hand circumference (preferably the writing hand) with a tape measure. If you do not have a tape measure, it is also possible to use a piece of string to determine the hand circumference and place it along a ruler or tape measure.
The Laimböck glove sizes for women range from size 6.5 to size 8.5 (with international sizes comparable in the table: XS to XL). For men, Laimböck glove sizes range from size 8 to size 11.5 (with international sizes comparable in the table: XS to XXXXL). Below this, the number of centimetres has been added. So you can easily find your size by measuring the circumference of your hand.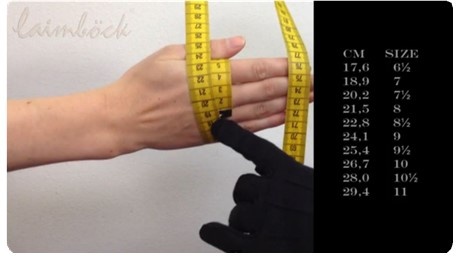 Measuring gloves step by step

You put a tape measure over your knuckles;

You turn the palm over so that the ribbon is on the inside of your palm; Cross it, you can now see the outline of the palm;

Measure the distance from both hands;

In the table you can see which size best fits your circumference.
 

Size

6,5
7
7,5
8
8,5

Circumference in cm

(excl.thumb)

16,5
18
19
 20,5 
21,5
Men
International
XS
S
 M
L
 XL
XXL
 XXXL 
XXXXL
Size
8
8,5
9
9,5
10
10,5
11
11,5

Circumference in cm

(excl.thumb)

20,5
21,5
23
24
26
27
28,5
29,5
Gifting gloves? check shoe size:

Comparing a shoe size with the glove size always assumes average sizes. Of course, it is always possible to exchange the unworn gift for another size if you wish!
Sizing chart for ceremony gloves
The ceremony gloves have a textile size. Below is the table with the various sizes.
Size
Size      

size

ceremonyglove

7
8
7,5
9
8
10
8,5
11
9
12/13
9,5
14
10
14
10,5
15
11
16
11,5
17
12
18