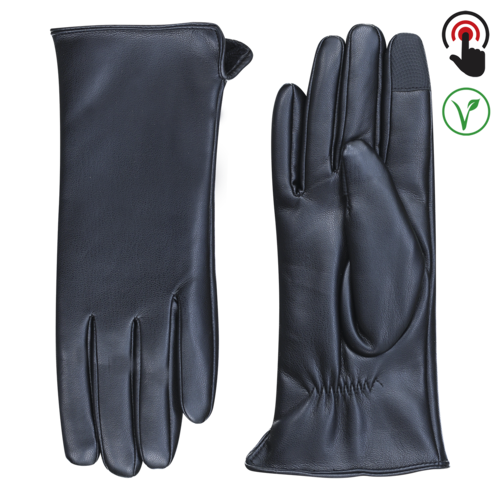 Vegan leather gloves
Vegan leather gloves
The vegan gloves are the accessories for the cold autumn and winter days, but these vegan leather gloves can be used during several seasons. This also automatically means that you do not only wear the vegan leather gloves on the bike, but also while walking, shopping or of course just to complete your outfit. The vegan gloves are not only protective against the cold but also look super 'classy'.
Why buy vegan leather gloves?
Laimböck has developed animal-free gloves that are comfortable, stylish and of good quality. With this development in 100% vegan leather gloves, the choice for compassion has been made easier. The vegan leather gloves are of super soft quality in neutral classic style with side split. The gloves have a comfortable soft lining of imitation fur and the vegan gloves have a pleasant wearing comfort due to the small elastic in the inner hand. Because we at Laimböck attach great importance to comfort, we have equipped the thumb and index finger with a touchscreen connector for optimal ease of use of the vegan gloves. This ensures that you can also use your smartphone during the cold winter days without taking off the gloves.
Artifical leather gloves for women
You can of course complete your outfit with the synthetic leather gloves for women. These ladies vegan gloves are available in different sizes. The sizes start at 6.5 and go up to 8.5. Due to the elastic fabrics of the synthetic leather gloves, they always offer the perfect fit for women. Not sure which size you need? Then take a look at our Size tables.
Buy vegan gloves at Laimböck
If you are looking for quality vegan leather gloves, Laimböck is the right place for you. We set strict quality requirements for our gloves and have developed a craftsmanship since 1831 that still provides people with the desired quality gloves to this day. Are you looking for gloves, but rather not made of vegan leather? Then visit our ladies gloves
Do you order
gloves at Laimböck?
Then we will take care of the shipping costs and you will receive the gloves at home for free. If you order the vegan leather gloves today, you will receive them at home the next working day. Do you have any other questions or would you like more information about our vegan range? Do not hesitate and contact us!