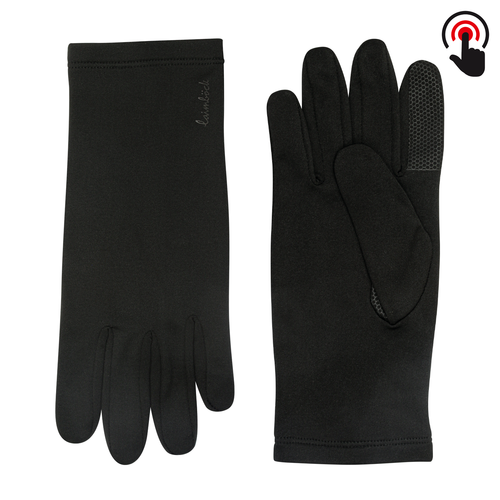 Urban & Touchscreen
Gloves ladies touchscreen
Scrolling through Facebook at the bus stop. Or answering an e-mail while walking the dog. We do it more and more often, but preferably not in the middle of winter. Because then we have to touch a touchscreen. And that means taking off those warm gloves. Luckily, Laimböck has come up with a solution: touchscreen gloves for women.
Always nice and warm hands
Everyone suffers from cold hands in winter. Cycling to the office, taking the dog for a walk or that shortcut between the supermarket and your car. No wonder many people wear gloves in winter. They always have nice warm hands.
Do you wear gloves during a rainstorm or hailstorm? Some gloves will get completely soaked. Especially knitted women's gloves are a big disadvantage. But when it is dry, they are extra warm. So you actually want the best combination: gloves that do not soak your hands, but do keep them warm. This can be done with sustainable vegan leather, for example. Stretch fabric is also a good choice. So you can choose from different materials.
And if you really want to have warm hands all the time, ladies touchscreen gloves come in handy. These too are made of all kinds of materials. We currently have a vegan leather touchscreen glove and a polyester variant, the Urban. So there is always a pair to suit you. But one particular feature all these gloves have in common: the touchscreen function.
How do the touchscreen gloves ladies work?
Thanks to their special touchscreen function, touchscreen gloves ladies are ideal for operating mobiles, tablets and e-readers. While simply keeping the gloves on. How does it work?
On the thumb and index finger are not regular glove tips, but a touchscreen connector. In fact, those two fingers are most commonly used to use touchscreen devices. So to click or type something, you don't need to take off the touchscreen gloves ladies. That makes waiting in the cold a lot more pleasant.
Order your touchscreen gloves ladies at Laimböck
At Laimböck, we regularly expand our range of touchscreen gloves ladies. For example, we have a pair of touchscreen gloves made of vegan leather. This is synthetic leather with imitation fur. The faux leather feels like real leather, supple and soft. The faux fur feels soft and warm like real fur but made without animal skin. We also have multifunctional gloves with stretch fabric and real leather in our range. And of course, each pair of gloves is available in different sizes.
So you can be sure to order your ladies touch gloves from Laimböck. In your size, in your favourite material. So scroll up quickly and choose your favourite.