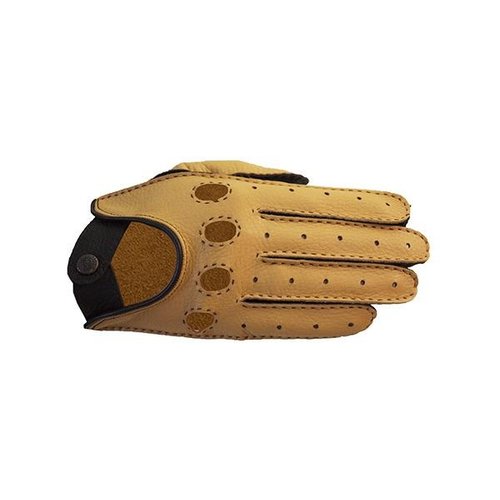 Car gloves
Car gloves
Car gloves are a classically designed gloves which provides more grip while driving. Classic cars in particular often have slippery steering wheels. Leather car gloves provide grip and prevent sweaty hands on the steering wheel. Car gloves have a classic look, making them a perfect match for vintage cars and other cars.
Our leather car gloves are finished with a crocheted fabric for ventilation or perforated at the top for better ventilation. Lined car gloves are warmer and can be driven all year round. These padded car gloves are very popular when driving a convertible.
Leather car gloves
The various models are made of nappa leather, crochet (crocheted upper hand), lammy, chic peccary or deerskin. There is a wide choice of fashionable colours in addition to traditional designs. In this way, the style of the car is reflected in the leather car gloves and you naturally choose a model that suits you and the car.
Multifunctional car gloves
The style of car gloves is so popular that it is also often worn outside driving. In particular, the classic unlined car gloves are pleasant to wear and the supple leather moulds easily to the hand. We therefore also see the car glove more often on the scooter or moped. Our car gloves are multifunctional in the transitional seasons.
Buying car gloves at Laimböck
Laimböck has an extensive range in car gloves with both women's car gloves and men's car gloves. For winter, there are lined models of car gloves. In spring and autumn, the unlined ones with or without fingers are very comfortable while driving a car or scooter. So that way, you are assured of the best quality car gloves for every occasion all year round.
In addition, your order at Laimböck is always shipped absolutely free of charge.